Responsible business for communities and the environment
Communities and environment
Climate change
The world is in a transitional state as a result of climate change and Quilter is adapting and responding to meet the challenges and opportunities presented. We are driven by our fundamental purpose to help create prosperity for the generations of today and tomorrow and in doing so, helping to create a more sustainable future.
Climate Change Statement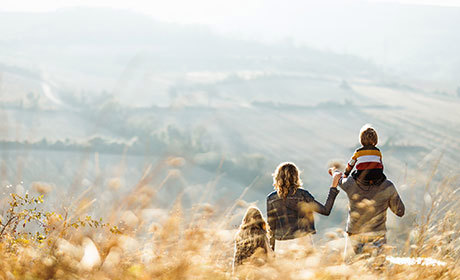 Operational impact
Energy use is Quilter's primary source of Scope 1 and 2 greenhouse gas emissions, and we're pleased that 100% of the buildings we control run on renewable energy tariffs. Where we do not control the building, we proactively engage with landlords to transition to renewable energy tariffs if they have not done so already. For example, we successfully engaged the landlord of our new London headquarters to change to a renewable energy tariff.
Quilter Environmental Standard
Climate disclosures and TCFD
As per the mandatory requirements of premium listed companies outlined by HM Treasury in November 2020, we are committed to an aligned TCFD climate disclosure for the financial year 2021. We will publish our disclosure in March 2022 in conjunction with our Annual Report and Accounts.
Social impact - The Quilter Foundation
The Quilter Foundation is Quilter's registered charity and the cornerstone of our community engagement work. Its mission is to empower the next generation through grant funding of selected charity partners, fundraising and sharing the skills and expertise of Quilter colleagues.
Through grant-making and the generous support of colleagues, advisers and customers, The Quilter Foundation has donated £2.2 million to charity partners since launching in 2018, enabling them to provide financial literacy, employment and wellbeing support to 23,000 young people in our local communities.
The Quilter Foundation
Working with suppliers
Our Supplier Code of Conduct applies to all suppliers and their sub-contractors that provide goods and services to Quilter. It sets out the minimum standards we expect our suppliers to adhere to when doing business with Quilter in addition to the contractual terms agreed. The Code covers legal compliance, ethical standards, conflicts of interest, anti-bribery and corruption, brands, trademarks and intellectual property, information and data protection, labour standards, living wage, discrimination, health and safety, and environmental management. We also expect them to promote these standards in their own supply chain where practical.
Supplier Code of Conduct